Let Me Show You The World Through My Eyes
Several people have been making lists of things that they love about Cleveland. You can see a few of their lists
here
and
here
and
here
and
here
. (Ok, that last one's not exactly PC...or a true list, but it cracked me up).
So I thought I'd make my own list of things I love about Cleveland. In no particular order:
Cleveland Metroparks
. What do you mean, all cities don't have the wonderful greenery spanning acres and miles for recreation? Sucks to be them. Oh, and while I'm at it,
Buzzard Sunday
(about 5 minutes from where I grew up) just doesn't get the attention of Groundhog's Day. It's all in the publicity.
Memphis Kiddie Park. I went there as a child and thought that it was the bomb. As an adult, my respoinse is, "no, seriously, is that safe?" Picture the security of a traveling carnival...except it's permanent.
Little Italy (about 10 minutes from where I *currently* live. If you've never been, I'm not sure what you've are missing more - the fantastic food, or the fantastic Murray Hill Art Walk. Oh, or the Feast of the Assumption. OK, you're just missing.
The West Side Market. Monday, Wednesday, Friday and Saturday. Each stand is independently owned. Some of the best feta around. My cats prefer the smokies. What do they have? "Fresh fruits and vegetables, fresh meats and poultry, smoked items, deli items, dairy items, baked goods, spices and sauces, herbs and other cooking ingredients, floral items, ethnic specialty items, other hard to find specialty items, imported foods, ready to eat foods like burgers, hot dogs, sausage sandwhiches, middle eastern foods, Irish foods, Mexican foods, Greek foods, and many many more." Mmm...I'm getting hungry just thinking about it.
Tomorrow is Saturday - yay!
The Indians
(and Tom Hamilton ("Waaaaaayyy back...") and Rick Manning. Though a big part of me misses Herb Score ("
Is is fair? Is it foul? It is
!
")) and
Jacobs Field
The Browns
(and Jim Donovan) and
Cleveland Browns Stadium
The Cavs
(and Joe Tait) and
Gund Arena
(And mostly how Cleveland fans live and die with them each season, so cutely naive with "this is our year" at first and then it quickly becomes "next year.")
(Wait, are the
Force
and the
Barons
still here in town? I guess I also like how the city just pretends that hockey and soccer don't exist.) A few of the more heartbreaking losses. Causing ESPN to name it the most tortured city in sports. Yes, Cleveland is #1. Oh, we in Cleveland know and recognize this. We all do. And yet, that adorable naivity makes us say, "This is our year" at the start of every season.
How about the fact that we have all FOUR seasons and it's fucking beautiful (ok, winter is about 3 months too long, but it's beautiful at first). You have no idea what fall is like until you've seen it here. Yes, there are times I want winter to hurry up and leave, and 100 inches of snow this winter really wore on my, but until you've gotten to experience a spring and fall here, you can't realize how nice it truly is.
Mill Creek Falls. Simply stunning. And that is a *new* find for me. After all these years, I can still learn new things about my old stomping ground.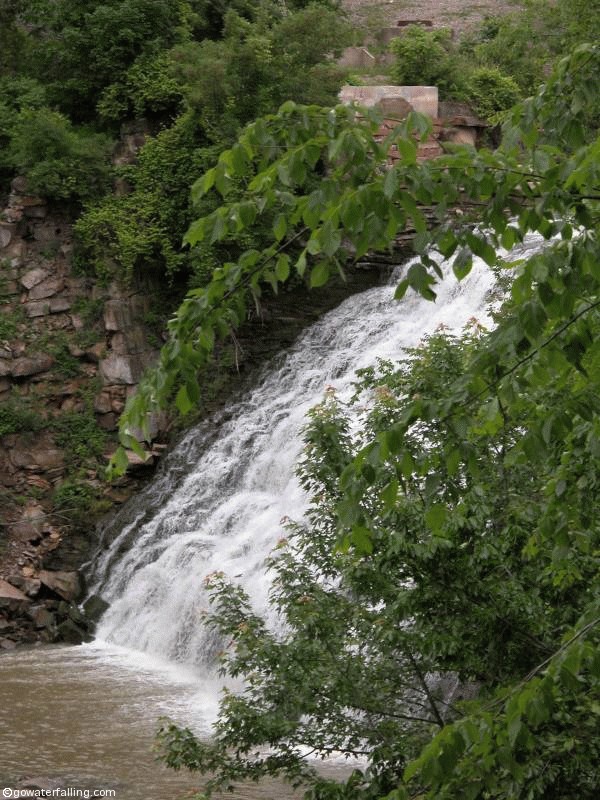 Playhouse Square
. The second largest performing arts center in the country. And while I'm at it, Cleveland Public Theatre.
Connie Schultz
. Brilliant and articulate, thoughtful. Mondays and Thursdays, and don't you forget it.
The great hospitals that we have in the area. Cleveland Clinic (one of the top 4 hopspitals in the country according to US News and World Report), Rainbow Babies and the rest of University Hospitals.
Lake Erie. (Which I totally can see from my office, along with Cleveland Browns Stadium.)
Legacy Village (also about ten minutes from me).
Pier W. Fantastic view. Open back up soon!!
Brian Fowler and Joe Cronauer on 106.5 (I have been listening to these guys since junior high or high school. That makes me feel SO freaking old!) And I've got to include Billy Kraus with them too.
Dick Feagler. I love crusty nostalgia. Even if that nostalgia is for things before I was born. Between Connie Schultz on Mondays and THursdays, and Dick Feagler on Sunday and Wednesdays, The Plain Dealer daily is more than worth it.
The cost of living. Seriously, when I make at least 75% of what at attorney at a large firm makes in NYC at my small firm, and my mortgage on my 2700 sqare foot house is much less than the rent for a studio in NYC or a 1 BR in Boston or Chicago, one word comes to mind - suckers.
Driving. "Bad" congestion and traffic means that my 25 minute commute takes 35 minutes. But it rarely takes longer than 30 minutes door to door.
Lake View Cemetary. 285 acres. Built is 1870.
President Garfield's monument. Wade Chappel. The dam. Elliot Ness monument.
(And speaking of Elliot Ness ) Rockefeller's monument. Haserot Monument. I like cemetaries, yes, but this is one of the best.

The Goodtime III. OK, it was the Goodtime II when I was in school and went on a field trip.

Gray's Armory. WAY too underused in this town. And if you are into architecture, it's just fantastic.


Fantastic...and the picture doesn't even do it justice.

The Agora. That really is enough said. What great venues.

League Park.
The site of the 1st (and only) unassisted triple play in the World Series. I love it b/c it's so random. You are in the middle of residential homes, and all of a sudden, you see the remains of the ticket booth (sadly, the right field grandstand was recently removed). For the baseball fans, want some trivia? Cy Young pitched the first game in League Park on May 1, 1891. DiMaggio set a record by hitting safely in his 56th consecutive game in League Park on July 16, 1941.

The Cultural Gardens. Greek, Scottish, and English. Yup, I'm fully represented. About to get really beautiful there.

The Free Stamp. Just because it makes people from other cities go, "what the hell...What is

wrong

with you people?" Right there at East 9th and Lakeside and its
28 foot by 48 foot.

Malley's Chocolate Factory. That coming from someone who doesn't even like chocolate. What do you mean, Hershey's sells more? Really? I wonder what has better sales around Easter? At least around here. Oh, but I really do prefer Sweeties, where I can get my candy cigarettes and any old school candy that I'm nostalgic for.
The lighted bridges. This blue one is still my favorite.
I'm sure there are a lot more that are escaping my mind, and I apologize. But there's a few of my favorite things in Cleveland.